Wahl Rotatrim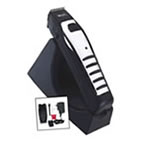 Click to enlarge
The Wahl Rotatrim is a very popular trimmer from the professional Wahl range. It is an ergonomically designed cordless professional trimmer, with a soft gripping surface for non-slip use.
The Wahl Rotatrim features an evolutionary rotating head which revolves 180 degrees, providing two trimming positions, allowing the user to achieve the optimum ergonomic relationship between the hand, trimmer and face.

· Includes a six position attachment comb
· Wahl Clipper oil
· Wahl trimmer stand
· Wahl mains recharger
· Wahl instruction booklet.