ETI Turbo Dryer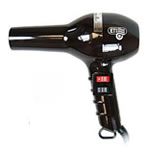 Click to enlarge
The ETI Turbo Dryer is the must-have for every style, heving been one of the most popular professional hairdryers for years. The ETI Turbo hairdryer has a powerful 1600 watt motor which helps keep hair smooth and shiny. The incredible ETI Turbodryer come supplied with a concentrator nozzle for creating every possible style.
This sleek hairdryer is available in a number of stylish colours and boasts a high-powered yet remarkably quiet motor. The extremely high performance ensures that the ETI Turbo Dryer is one of the most popular professional dryers available. Ideal for both professional salon and home use, you can rest assured that the ETI Turbo Dryer will deliver time after time. Please click on the image to see the available ETI hairdryer colours.

· Powerful, extended life ETI Turbo motor.
· Choice of eye catching colours.
· Concentrator Nozzle included.